Resources
The resources listed below will help you to start recording trees to the Ancient Tree Inventory

:
On this page you can download a copy of our recording forms, view our recording guidance and watch our videos to learn more about recording tree to the Ancient Tree Inventory.
1.) Ancient Tree Inventory Videos
Watch the five-part video series below to learn more about the Ancient Tree Inventory, what we record and how to record trees to the project. 
Please note that we also have additional webpages and guidance in our How To Record section of the website.
Video 1: An introduction to the Ancient Tree Inventory
What is the Ancient Tree Inventory and how can you help us to map special trees to our database? 
Video 2: Recording basics and top tips for recorders
Covering the basics of how to record a tree in the field, the kit you will need and then how to upload it to the ATI website. 
Video 3:
How to record the girth and form of a tree
An explanation of the main forms (shapes) that old trees might take and guidance on how to measure the girth of trees depending on their form. 
Video 4:

How to recognise an ancient or veteran tree

An introduction to ancient and veteran trees. What do they look like? What are 'decay features'? And where might you find ancient and veteran trees? 
Video 5:

Completing a record

Please submit as much information as you can. This video explains some of the additional information that you can provide to help us make the ATI more complete. 
Download and print this form to record information and field notes for the trees that you find. 
The field headings on the form match those that appear on the ATI website.  
Click Add A Tree to then enter this information to the website for each tree. 
Note: this website is mobile friendly, so you can add trees directly to the ATI when visiting a tree (mobile signal needed). The recording form above is useful if you prefer to record on paper in the field and then enter the data on your computer when you get home, or if you do not have good mobile signal.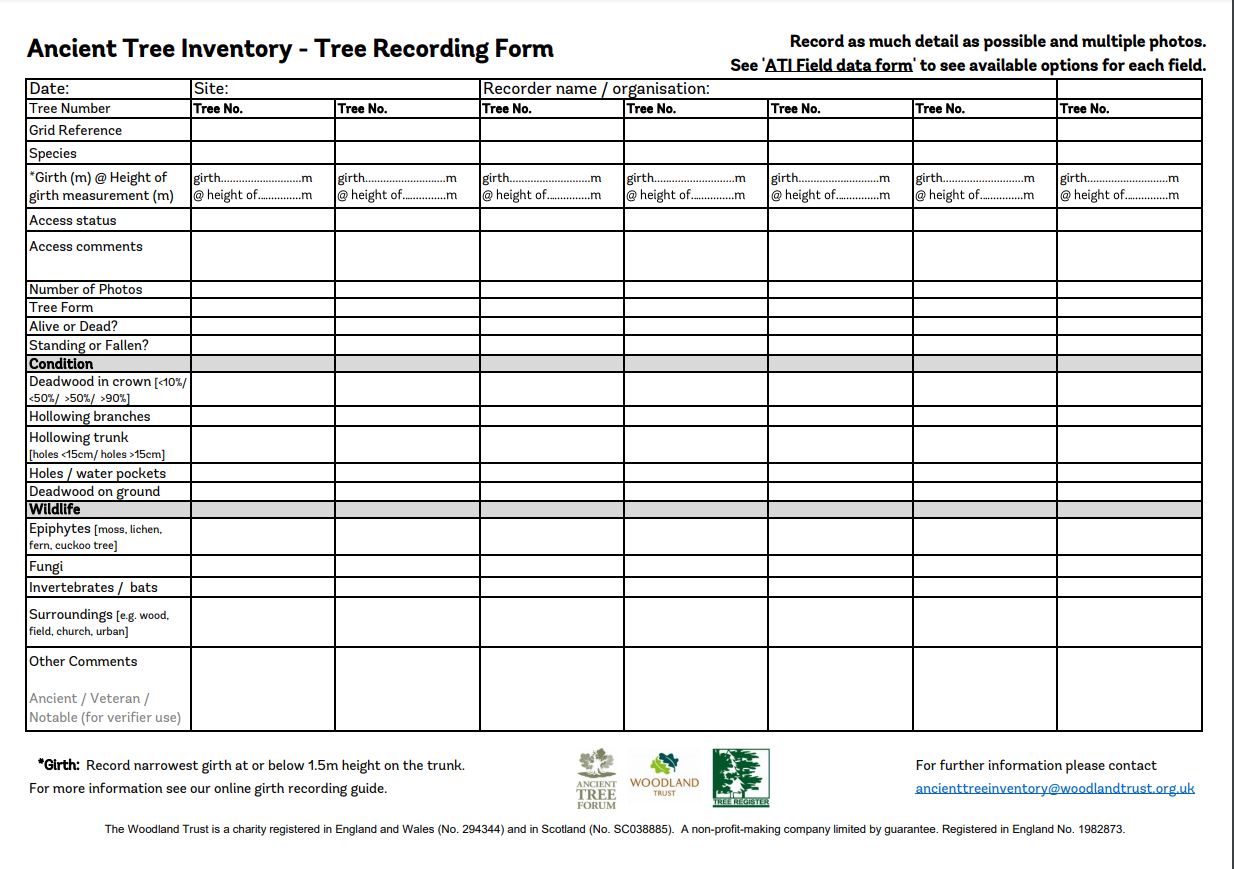 Use this alongside the Tree Recording Form. The Field Data Sheet lists the options that are available under some of the field headings on the Tree Recording Form. 
You'll only need to print one copy to keep as a reference. 
Download our PDF guide which covers essential guidance and tips for recording trees to the Ancient Tree Inventory.