Exploring Poland's Natural Monuments Scheme: Protecting old and special trees in law
Adele Benson, 18/11/2023
Poland, with its rich biodiversity and stunning landscapes, is a hidden gem for nature enthusiasts. Beyond its charming cities and historical sites, the country is home to a remarkable regulation that protects Natural Monuments. This scheme aims to protect and preserve features of natural significance that are particularly valuable for scientific, historical, cultural or other reasons. These monuments can be unique geological formations, distinctive landscapes, and even rare or endangered species habitat, including a basement in Warsaw that is protected as a home to an endangered species of bat. Over 30,000 of these natural monuments are ancient, monumental, or distinguished trees, scattered throughout the Polish countryside and cities.  In June 2023 a group of six Woodland Trust staff from different teams visited Poland on a study trip to see the Green Monuments scheme in action and talk to the people who run it. The trip was kindly funded by a Trust donor.
Day 1: Unveiling Ancient Treasures
Our trip begins on our arrival in Gorlitz, Germany, where Kamil, our local guide, eagerly awaits us. Our first day focuses on exploring green monuments in rural areas. Our destination is the oldest tree in Poland, Henry, an awe-inspiring yew tree with a history spanning centuries. We meet Jerzy Stolarczyk, an arboriculturist who has dedicated himself to the care and preservation of this ancient tree. Listening to his stories and insights, we gain a deeper appreciation for the significance of these living monuments. Before starting any work on the tree, Jerzy spent 2 years studying it and the causes of its decline, which included heat stress, root damage from small mammals, and scorch from intense sunlight. In 2016, the shade cloths and sprinklers were installed on the scaffolding system pictured around Henry – a sort of field hospital for the tree. Following positive signs of recovery there are plans to dismantle the scaffold. This was an intensive level of tree care that we don't see often, but it felt wholly appropriate and respectful to the tree. Funding through the Green Monuments scheme helped to cover some (but not all) of Jerzy's costs.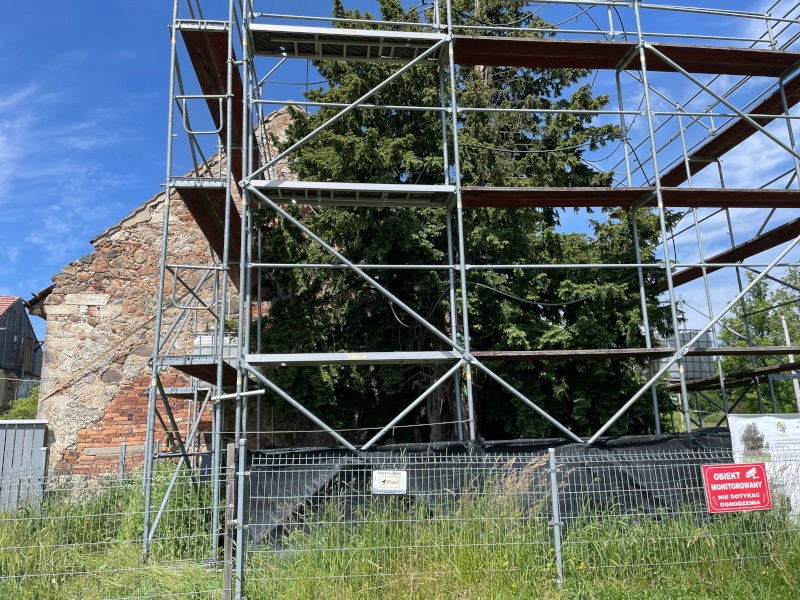 Next, we venture to an island on a river near the village of Stara Olezsna, to visit a collection of veteran trees, within a now dense woodland in the remnants of a historic palace park. Here, we meet with Monika, who is responsible for the preservation of these trees, learning about the challenges and triumphs of maintaining green monuments in a small municipality. Monika manages 40 green monuments in her jurisdiction (roughly equivalent to a district or borough council in the UK) with a small annual budget of c£4000 to pay for priority tree care and the expertise of qualified (VETcert) consultants. Her responsibilities encompass all environmental issues in the municipality, including waste management and water.
It was here that we were first shown the records that are collected in annual tree assessments, where management objectives are determined for each tree. The assessment helps to determine what threats the tree may be facing (disease, root area compaction, surrounding land use).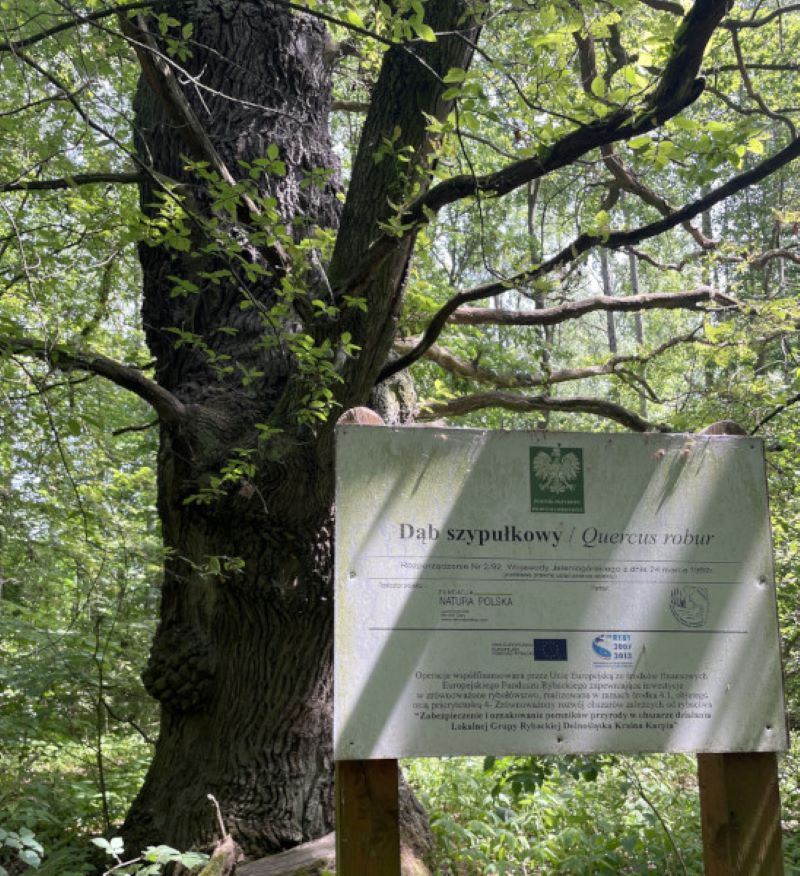 Day 2: Engaging with Advocates and Exploring Urban Parks
Our second day begins with a meeting with a non-governmental organization (NGO) - the Fundacja Ekorozwoju (FER) who campaign for sustainable development, including tree protection. The FER has been campaigning for changes in legislation concerning the protection of trees, including the need to prevent root damage. The FER Foundation, located at EkoCentrum Wroclaw, serves as a hub for tree preservation efforts in Poland. Engaging in discussions with the dedicated members of the foundation, we gain insight into the broader context of environmental conservation in the country.
We had the honour of a meeting with a Member of Parliament, providing us with an opportunity to understand the city's efforts in preserving its green spaces, including old trees and woodlands within the urban landscape.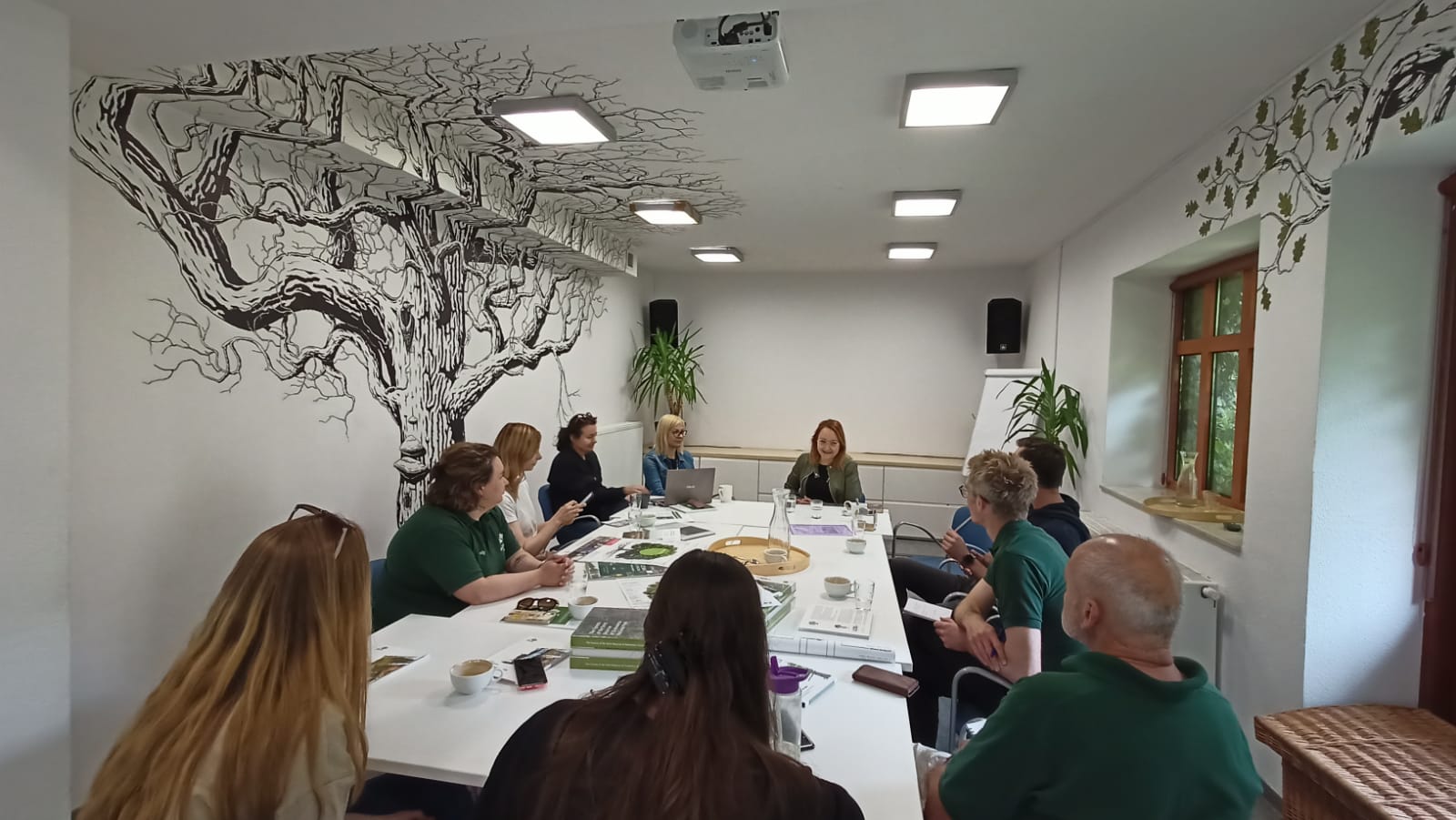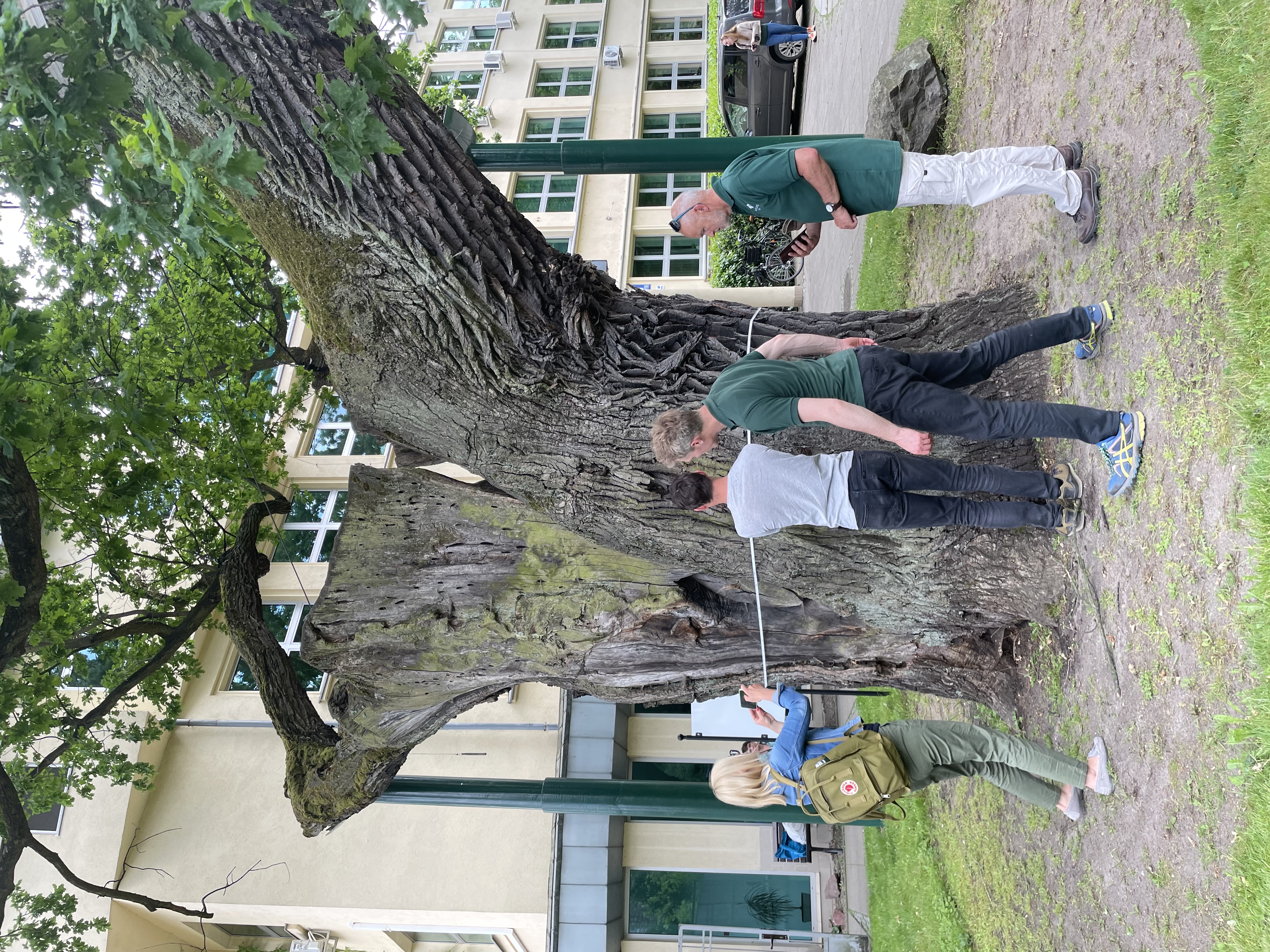 Day 3: Warsaw's old and special trees
Our third day commences at the Nature Protection Office in Warsaw. The Office is responsible for the management of over 100 green monuments in Warsaw. With the help of our translators Piotr and Kamil, we hear about the possibilities and challenges faced by city officials who implement the scheme within an urban environment in Warsaw. This included their experience of mandatory and voluntary approaches to protecting green monuments which was very insightful.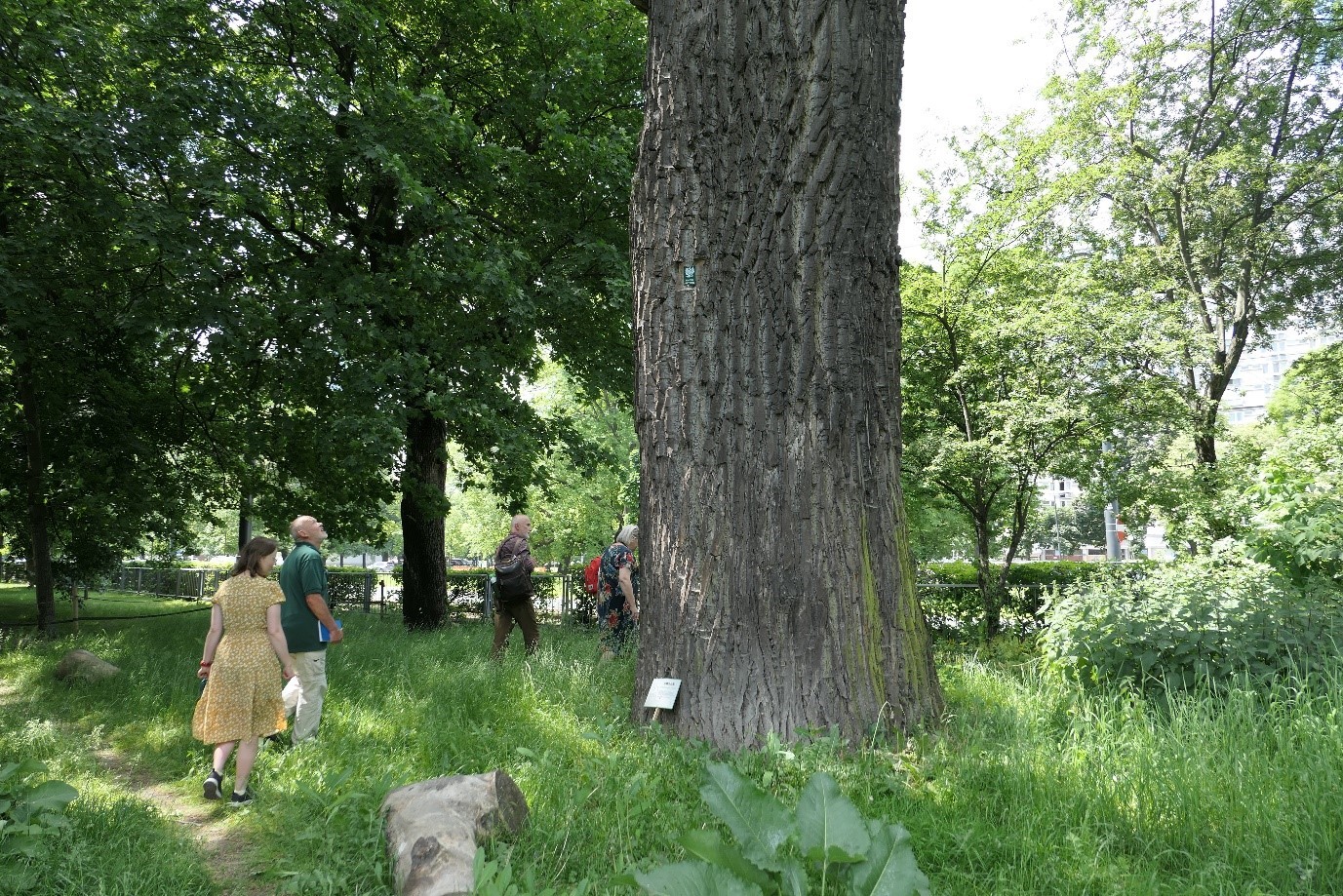 Due to the legacy of war, there are few very old trees in Warsaw and in many places the city had to be rebuilt from scratch. Post-war planting in the city favoured fast-growing trees. The oldest tree in Warsaw is Mieszko, (approximately 640 years old), an ancient oak tree and an important symbol of survival for the city. We visited the tree with Piotr, a tree expert who is writing its management plan.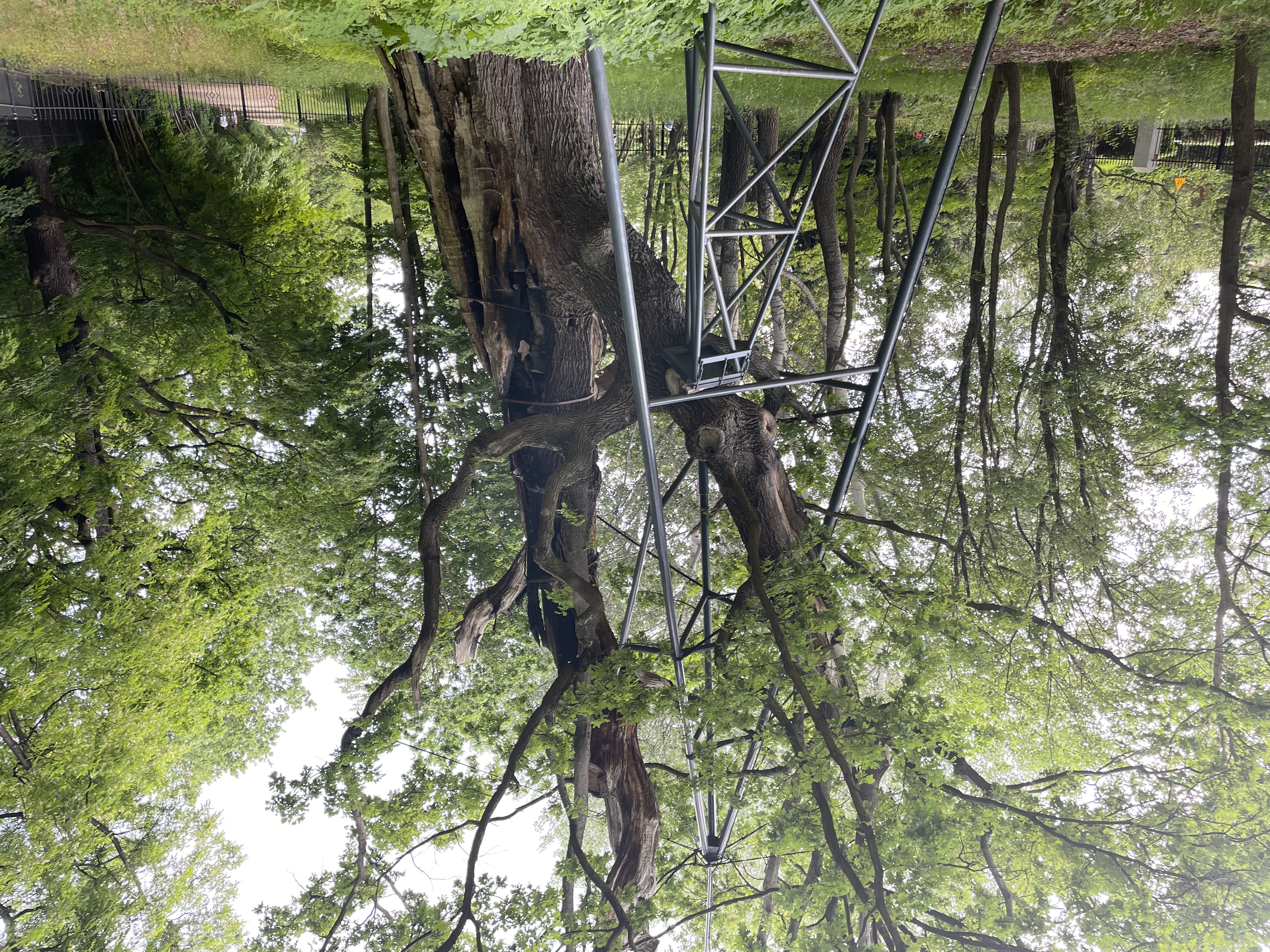 Day 4: Białowieża National Park
On our final day, we embark on a journey to Białowieża, a UNESCO world heritage site and home to one of Europe's last and most precious remnants of primeval forest. Our guide described the forest as 'as natural as it gets'. We are fascinated by the levels of standing and fallen dead wood, with about 25% of the forest being dead wood. A guided tour through the strict reserve, which is accessible only with a permit, reveals the mesmerizing wonders of this ancient woodland.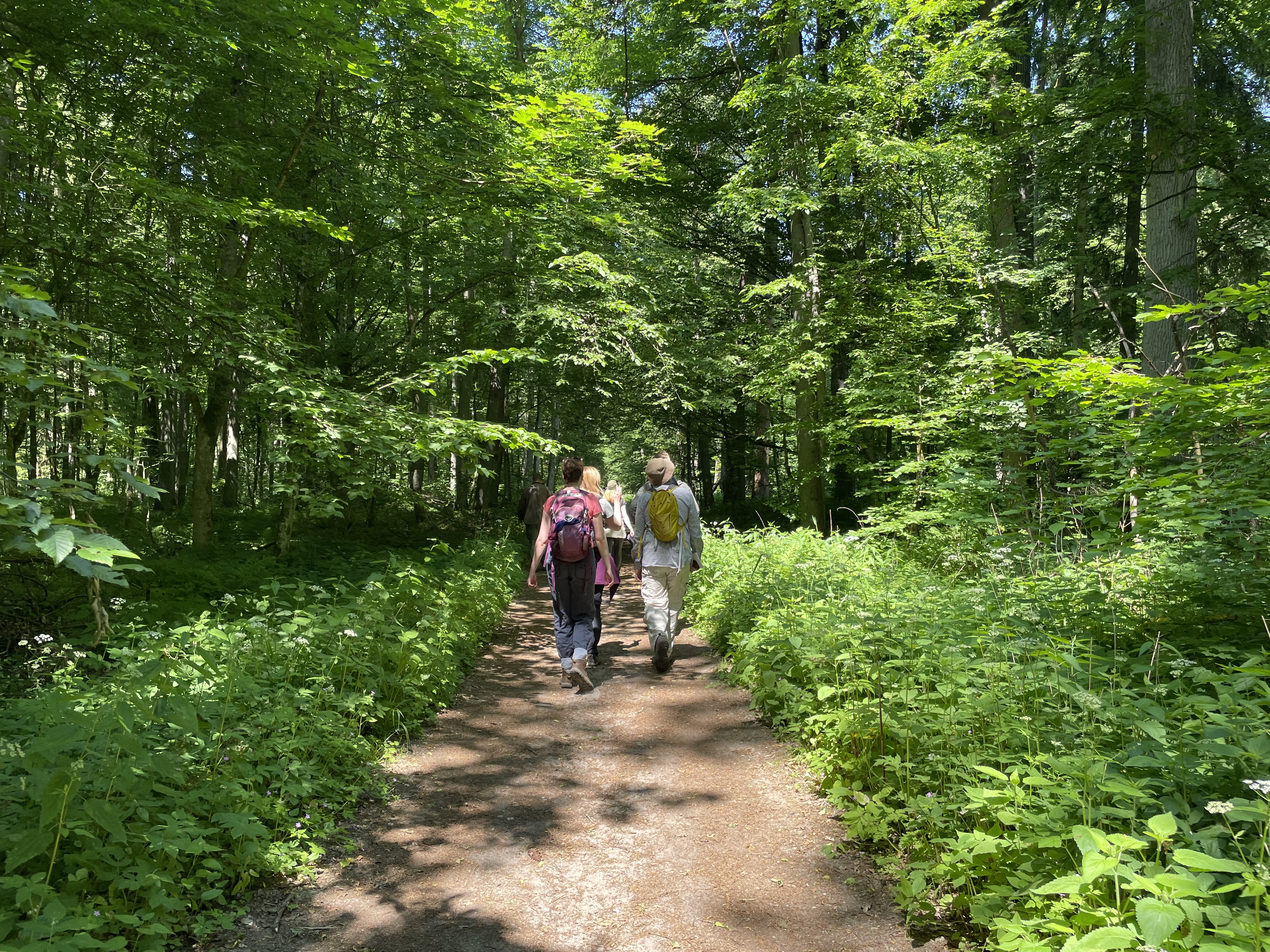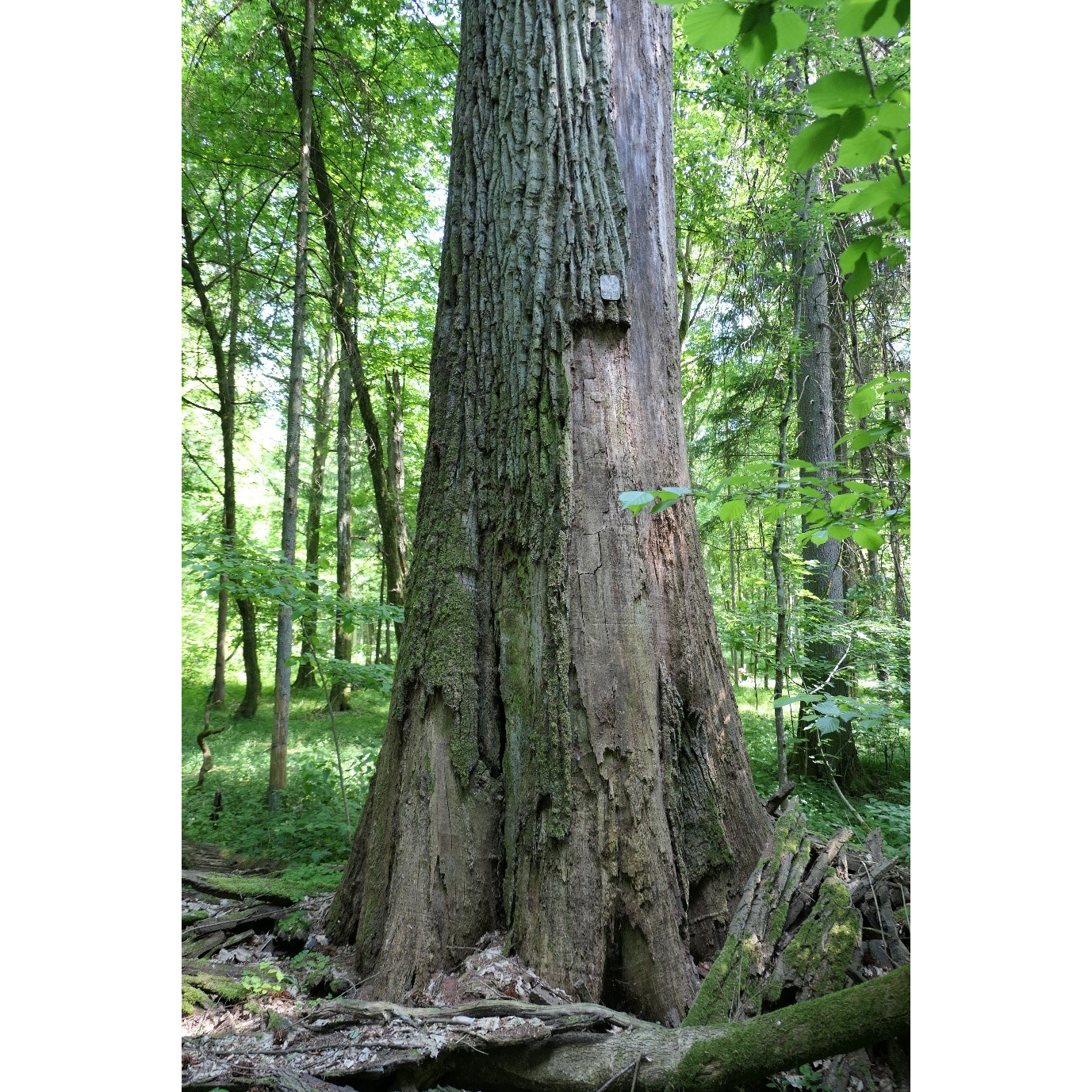 The last tree we visited was Dąb Dunin, translated as 'the Forest Warden; This ancient oak near the Bialowezia Forest was the 2022 European Tree of the Year. At its base our group found signs of the hermit beetle. Trees such as this can provide the only habitat for miles around for this protected species.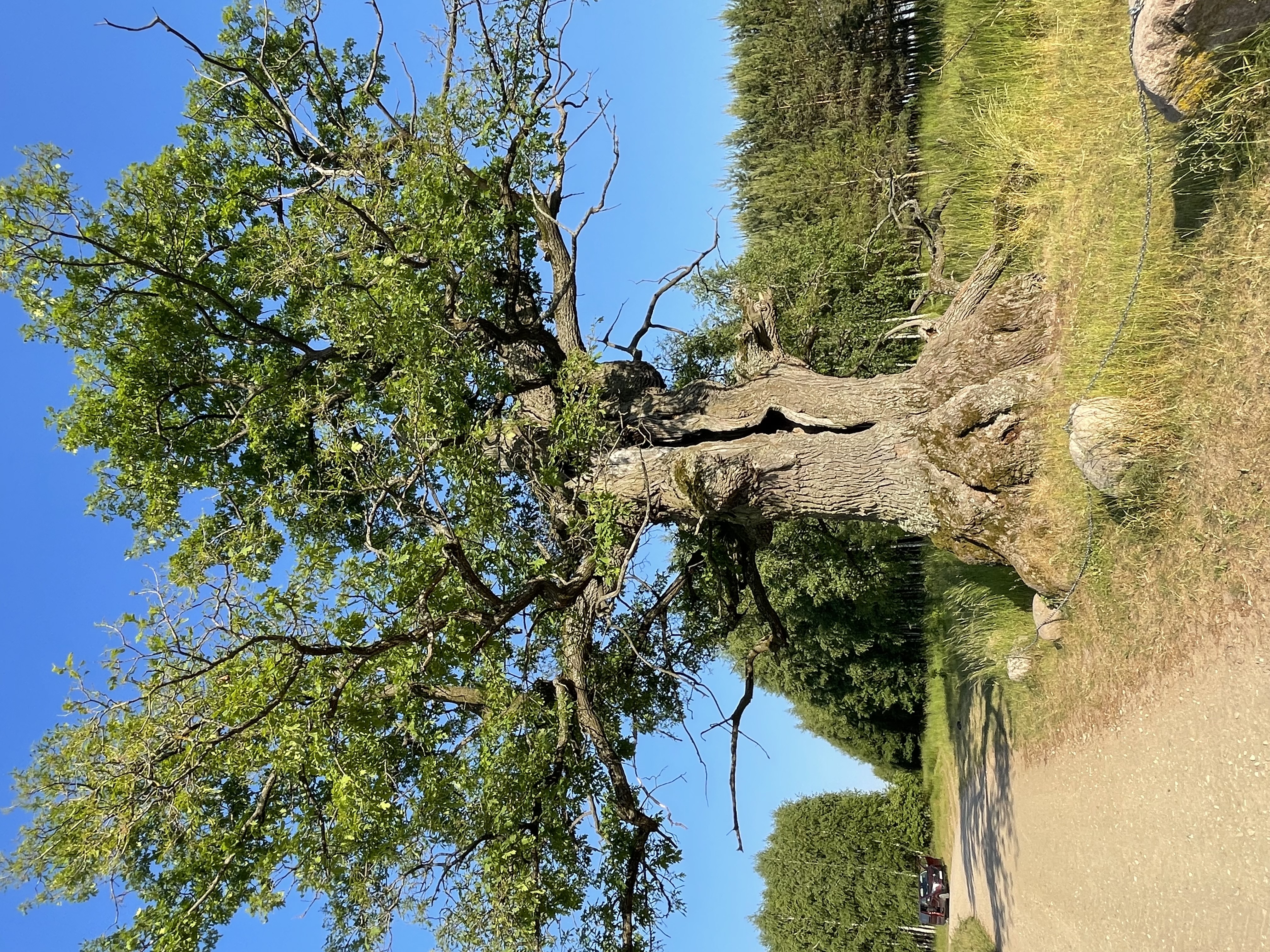 Our expedition to see Poland's green monuments and to meet the people who look after them has been an enlightening and enriching experience. We have witnessed the passion and dedication of individuals, organisations, and governmental bodies in preserving these natural treasures for future generations. The Natural Monuments Scheme serves as a testament to Poland's commitment to environmental conservation and provides an interesting model for other countries. A number of European countries have similar schemes which legally protect ancient and special trees including Italy and Romania.
The UK has an internationally important tree heritage – with many more ancient oak and yew trees than the rest of Europe combined. For centuries these trees have been relatively safe with many situated on private land and estates in long-term family ownership. But not every tree is safe or well protected. Pressure on land is much more intense than it has been and despite their irreplaceable value, ancient trees have little or no formal protection in many cases. And there is no national monitoring of their status so at present we have no way of knowing how these trees are doing or to generate funds for their care where this is needed. Our 2020 study into the loss of large old trees in East Anglia which compared the first epoch OS maps (with individually marked trees) to modern aerial imagery, showed that over 50% of large old trees had been lost from this area over the past 150 years. This will include elm trees lost to disease in the twentieth century.
Our Living Legends campaign is aiming to change this and ensure that every ancient tree can reach the end of its natural life free of life-shortening threats. So far more than 50,000 people have signed our petition. A recent poll we commissioned shows 83% of people in Great Britain support a legally protected heritage status for ancient trees.
Since the campaign's launch in 2022, we've been working with experts to explore how legally protected status could be established in the UK. We've commissioned research and looked overseas to understand what's working well in places like Poland.
Sign the petition here: https://campaigns.woodlandtrust.org.uk/page/99702/petition/1